Friday Detention Blues and the Dreamdale High Boiler Room Blitz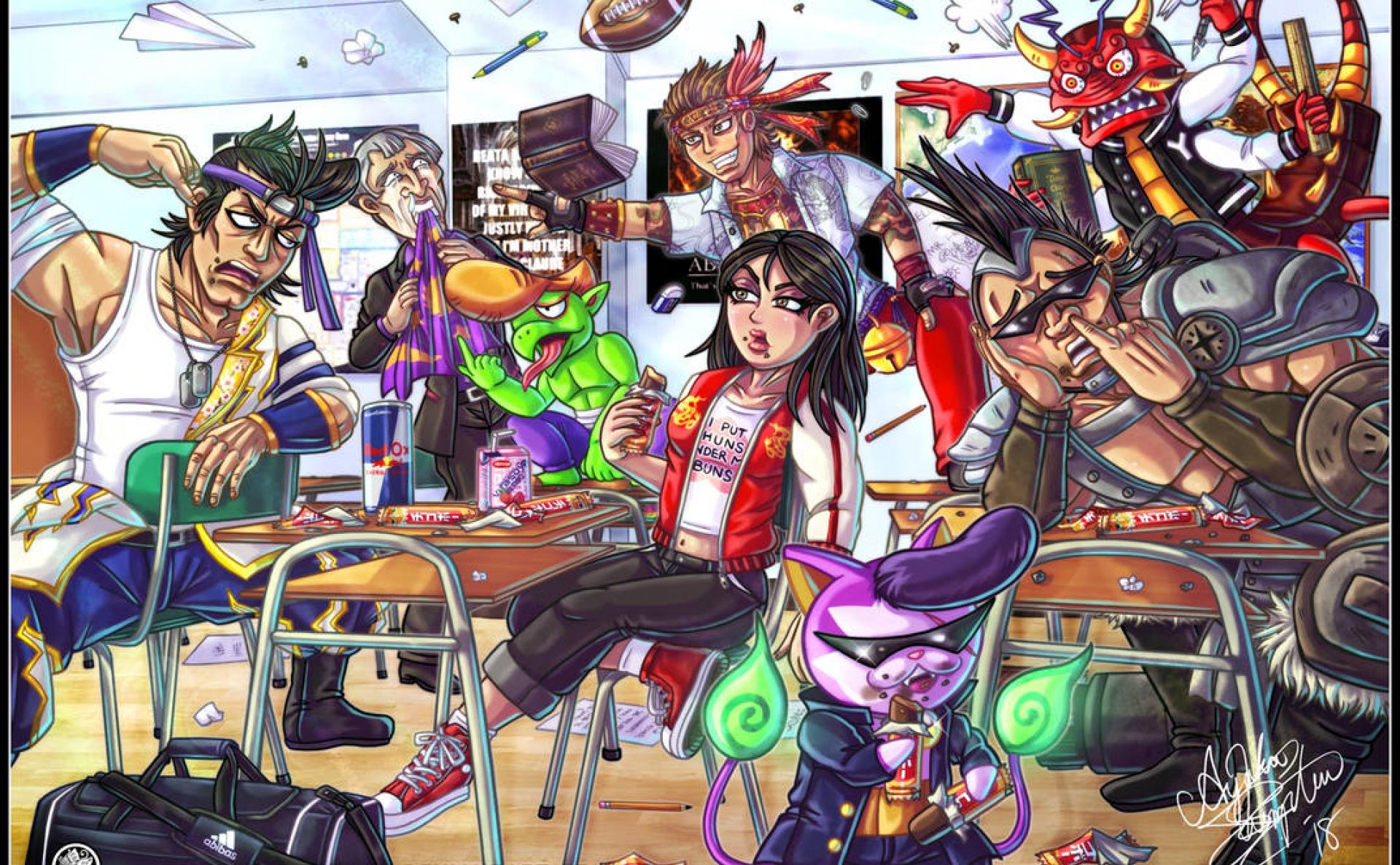 Tinejdžerska pustoš mrmljaš si u bradu dok skidaš kožnjak što ti je buraz "posudio" i protestno sjedaš u školsku klupu. Rupe na tvojim trapkama jasno svijetu daju do znanja da nisi samo jedna cigla u zidu, a nelagodno komešanje drugih učenika na tvoju prisutnost ovdje u školskom pritvoru stavlja ti smiješak na lice jer znaš da je tvoja loša reputacija pošteno zarađena. Ako ništa drugo barem su i ostali članovi tvog vilinskog motley-a ovdje s tobom. Dok vadiš walkman i bilježnicu sa svojim crtežima spreman staviti svijet na ignore čuješ kako prozivku započinje rezigniran glas prof. Pinkleya, proćelavog profesora informatike čija blijeda bež košulja izgleda kao da je egzistencijalno srasla sa zastarjelim namještajem same učionice. Da nije smiješno bilo bi banalno. Svejedno, borio si se protiv zakona i zakon je pobijedio, ali na kraju krajeva samo zato što ne možeš izaći iz škole ne znači da se ne možeš zabaviti. Značajno pogledaš prema ostalim članovima motley-a i u očima im vidiš taj isti pobunjenički krik.
—
Na ovom sessionu igrači će preuzeti uloge changelinga, vilinskih bića koja poziraju kao tinejdžeri iz jedne stereotipne američke srednje škole. Upali su u dovoljno nevolja taj dan da su poslani u školski pritvor tj. "detention" smješten u podrumu škole. Kao changelinzi vaš glavni neprijatelj je banalnost pa samo istrpjeti detention nije nikako prihvatljivo. Iskoristite svoje nadnaravne vještine i moći da se riješite napornog profesora što vas nadzire, pokrenite neku dramu ili bar tučnjavu, saznajte neku nelagodnu tajnu, pokrenite trač ili ako se usudite organizirajte party, a ako vam se ukaže prilika pobjegnite prema slatkoj slobodi. Fight the power!
Notes
Nije potrebno prethodno poznavanje sustava, likovi su unaprijed napravljeni. Ponijeti olovku, papir i kockice tko ih ima te dobro raspoloženje. 

Judge us not by our seemings for we are never what we appear.
Come hither, changelings and join the dream-dance,
lest the winter come and the Dreaming pass into memory.
Changeling: The Dreaming is a tabletop role-playing game originally published by White Wolf Publishing in July 1995, and is part of the World of Darkness series. Player characters are changelings, fae souls reborn into human bodies, a practice begun by the fae to protect themselves as magic vanished from the world.
The fae are creatures of dreams, drawing magical power and their very existence from "Glamour", the dreams of mankind. Traditionally, a changeling is a fairy child substituted for a human baby, but Changeling: The Dreaming uses a very different interpretation. In the game, a changeling is a fae soul born into a human body. Early in the human's life, usually before puberty, they undergo the "Chrysalis", a magical awakening of the fae soul which previously lay dormant. Once through the Chrysalis, the Changeling exists simultaneously in both the "real" world and in the "chimerical" reality of the fae, where creative ideas and imagination have substance. (The metaphysical aspects of this are the complex concepts present in the game.) The human soul becomes joined with/cohabits alongside the fae soul.
The gates to Arcadia, the original paradise, are closed. Only the world of humanity remains. Without any awareness of our true nature, humankind crushes us beneath its banal heel. Joy and laughter are gone; only the Dreaming remains. We are changelings, the forgotten ones, neither fully fae nor wholly mortal. The last of our kind on Earth, we have built ourselves an invisible kingdom. We are everywhere, yet you have never seen us. We hide in plain sight with the power of our Glamour. We exist within a real world of make-believe where "imaginary" things can kill and "pretend" monsters are real.