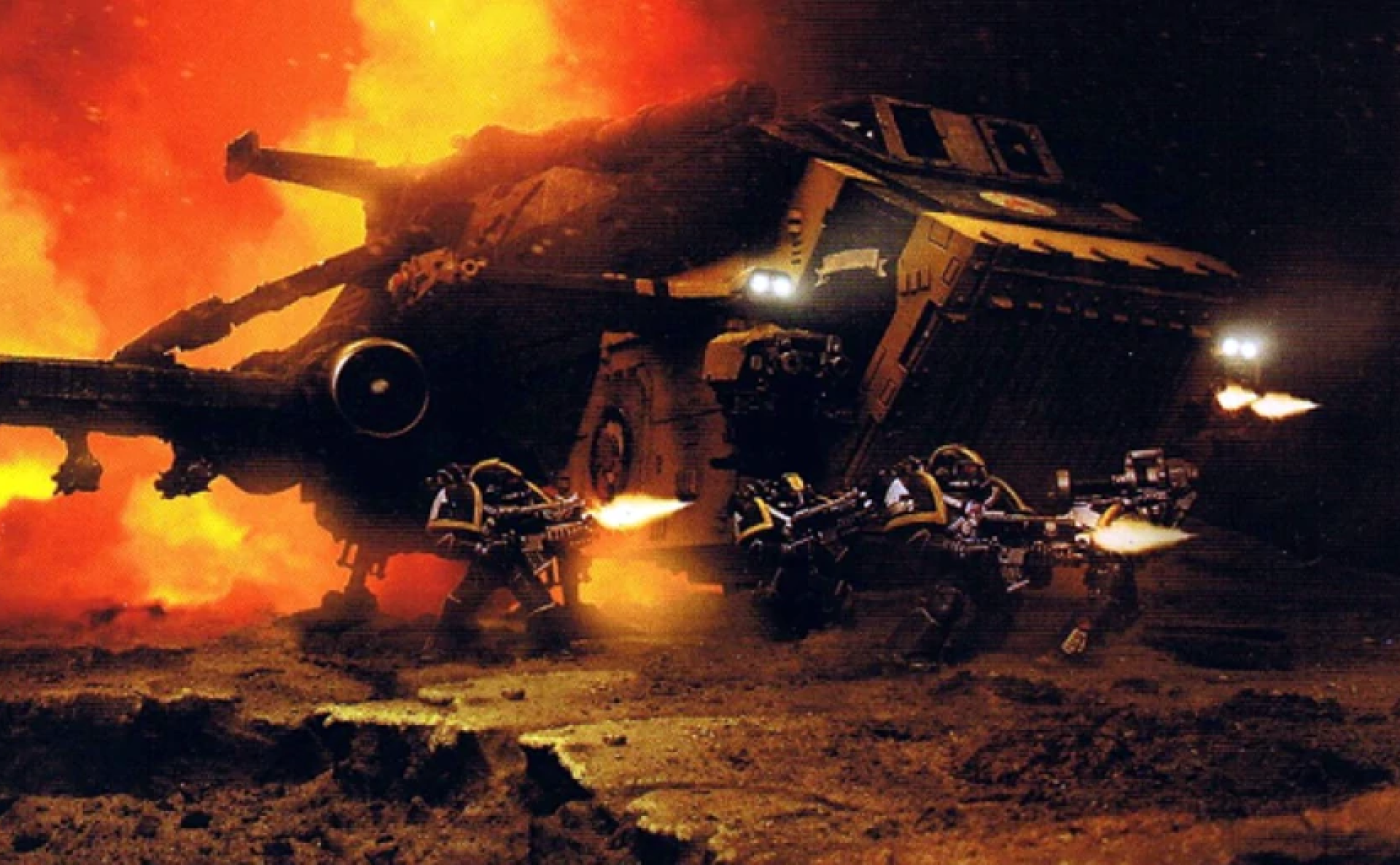 Mission Imperious Comet complete. Kill-team Ordinatus requesting extraction.
[COMMUNICATION RECEIVED ON DEATHWATCH ENCRYPTED CHANNEL; RELAYING TO OPERATOR;]
Received, Kill-team Ordinatus, this is Deathwatch Thunderhawk, the Relentless. ETA 47 solar minutes.
***
[DESTINATION SET: Atonement:36.4643308,-116.8690664; ENGAGING ROCKET ENGINES; MAXIMUM BURN;]
[ENTERING ATMOSPHERE; DISENGAGING ROCKET ENGINES; ENGAGING TURBOFANS;]
[COMPENSATING FOR REDUCED GRAVITY;]
[APPROACHING EXTRACTION POINT; SWITCHING TO VTOL MODE; LOWERING FORWARD RAMP;]
Kill-team Ordinatus all aboard. Go for takeoff.
[RAISING FORWARD RAMP; SWITCHING OFF VTOL MODE; DESTINATION SET: Rogue Trader Frigate the Spear of Destiny;]
Glad to have you onboard Ordinatus. Returning to the Hand of Destiny.
***
[SENSORIUM ARRAY DETECTING UNKNOWN HIGH ENERGY SIGNATURE; LIKELIHOOD OF INCOMING ATTACK: high; ENGAGING EVASIVE MANUEVERS;]
What..we're hit!
[HULL BREACH DETECTED; EXTENSIVE DAMAGE TO CARGO HOLD; ENGINES: offline;]
We've lost engines, we're going down!
[LOSING CARGO...2 DEATHWATCH ORDNANCE RELIQUARIES...4 DEATHWATCH PERSONNEL;]
Omnissiah preserve us...
[IMPACT IMMINENT; IMPACT AREA: Imperial settlement; ATTEMPTING TO REDUCE COLLATERAL DAMAGE;]
[ALL SYSTEMS CRITICAL; POWER LEVELS DROPPING; ENGAGING DISTRESS BEACON;]
[SENSORIUM ARRAY DETECTING HOSTILE LIFE SIGNS;]
Notes
Prethodno poznavanje mehanike nije potrebno: likovi su unaprijed napravljeni pa ćemo prolazeći kroz likove naučiti svu mehaniku koja će biti potrebna za ovaj session
Poznavanje settinga WH40k nije potrebno
Igra koristi d100 kocke

Deathwatch is set in the grim and dark future of the Warhammer 40,000 universe. Players take on the role of surgically modified super humans known as Space Marines. These individuals are recruited from their native Chapters (fighting units of approximately 1,000 men) to serve as a military arm of the Inquisition, against particularly dangerous heretics and alien lifeforms.